Hazardous Asteroids
---
Saturday, 03 April 2021 9:30 a.m. — 10:30 a.m. MST
Your time: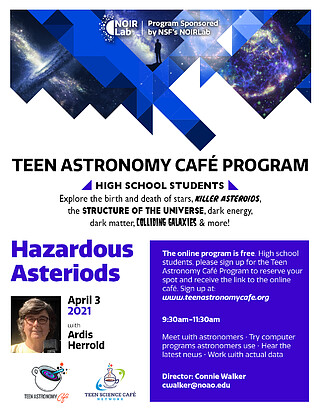 Online event
Teen Astronomy Café
Ardis Herrold (Vera C. Rubin Observatory)
At the Teen Astronomy Cafés, high school students explore the birth and death of stars, killer asteroids, exoplanets, colliding galaxies, gravitational lenses, the structure of the universe, dark energy, dark matter and more in an effort to inspire them in STEM! They meet with astronomers; hear the latest news; try computer programs astronomers use; work with actual data! Sign up is at teenastronomycafe.org.
In this month's activity, students evaluate the potential threat of an Earth impact by analyzing the orbit and estimating the size of a newly-discovered Near-Earth Object.