AstroDay Hilo
---
Saturday, 14 May 2022 1 p.m. — 7 p.m. MST
Your time: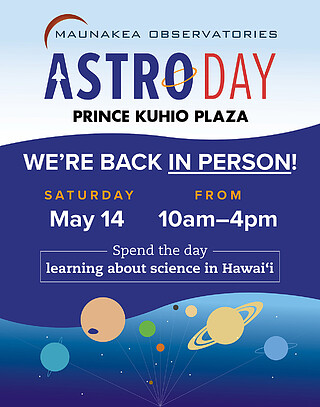 Prince Kuhio Plaza
AstroDay
Jameeka Marshall and Peter Michaud (NOIRLab)
For the first time since the pandemic, AstroDay Hawai'i will be in person again! The event takes place on Saturday, 14 May 2022 in the Prince Kuhio shopping center in Hilo from 10am HST to 4pm HST. NOIRLab staff will participate along with other observatories on Maunakea, Mauna Loa, Haleakala, and Oahu to inform and educate visitors about astronomy in Hawai'i. Other science, education, and community organizations will also participate in the festivities to create a well-rounded and exciting day of celebrating knowledge.
AstroDay coincides with Astronomy Day, an international grass-roots movement to share the joy of astronomy with local communities. NOIRLab will contribute pre-packaged astronomy kits for pickup, as well as provide activities and demos that relate to NOIRLab science and technology. Visit us at our booth!