Rubin Digest 26 July 2022
26 July 2022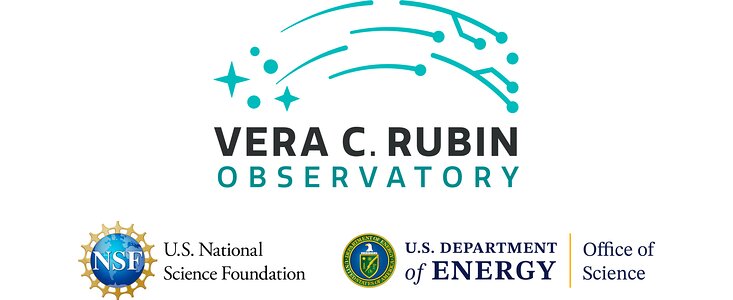 Project & Science News
A detailed agenda for the Rubin 2022 Project and Community Workshop (PCW) is now available on the meeting website. We look forward to seeing many of you August 8-12 in Tucson, AZ. 
Numerous Rubin Observatory staff members gave talks at last week's SPIE conference in Montreal Canada, July 17-22. Alysha Shugart facilitated a well-received series of interactive Diversity, Equity, and Inclusion activities, and the Rubin communications team hosted a booth in the exhibit hall. A Rubin group photo taken at the booth is available in the Gallery, along with other photos from the meeting.  
A significant winter storm hit the summit on July 14th and 15th, dropping about 6 feet (1.8 meters) of snow in some places. Some non-Rubin personnel were safely evacuated from Cerro Pachón by helicopter, and road access to the summit was completely blocked for several days. A Rubin inspection team was able to access the summit on July 21st. Their initial report included some damage from snow loading and moisture, but a full assessment is still underway. This assessment and resulting repairs will take priority over the coming days. This aerial video, posted on Facebook by NOIRLab shows just how much snow blanketed the mountains (Rubin Observatory is visible near the beginning).
The LSST Camera team has received and begun to operate the prototype pumped coolant chiller at SLAC National Accelerator Laboratory. This successful initial test is reducing risk toward an alternate solution the team is developing for the original vapor compression cold refrigeration system, which exhibited long term instability last fall and winter. This testing is in support of an upcoming agency review, scheduled for the first week of August, that will assess the final design of the pumped coolant approach.
Rubin Observatory swag items, including t-shirts, coffee mugs, tote bags, and more, are available for purchase in our not-for-profit online store. 
LSST Corporation News:
The LINCC Frameworks team has shared a draft community white paper on cross-cutting analysis software needs that will support a wide range of early LSST science cases. This white paper is the outcome of a workshop held in March 2022, "From Data to Software to Science with the Rubin Observatory LSST," organized by the LINCC Frameworks team with participation from across the LSST science community, including members of the LSST Science Collaborations, Rubin Observatory, NOIRLab, and IDACs teams. See this post on the LSST Community forum for more information and to engage with follow-up discussions.
LSSTC is accepting applications for a Project Manager to coordinate, manage, and assess its programs and projects. This position will be especially focused on two major, exciting new programs within the LINCC umbrella initiative—the LSSTC Catalyst Fellowship and LINCC Frameworks. Position details and a link to apply are available in this job post.
Operations Updates:
Everyone who applied to participate in Data Preview 0.2 (DP0.2) should now be able to access the Rubin Science Platform and the DP0.2 data set. If you're having trouble, please reach out and get support at your earliest convenience. Find out more about the DP0.2 data set, tutorials, other resources in the documentation at dp0-2.lsst.io.
Announcements & Opportunities:
Clare Higgs joined the EPO team as the Astronomy Outreach Specialist on July 18th. Clare will be helping the EPO team curate and integrate astronomy data—and ultimately Rubin data—with engaging, interactive online products for EPO audiences. 
NOIRLab is accepting applications for a new position: Rubin Observatory Community Scientist for Documentation, with the Rubin Community Engagement team (CET). This individual will coordinate and participate in the delivery of user-facing scientific documentation related to the Rubin Observatory data products and software. This position posting contains details and a link to apply.
Info for Project Members:
If you'd like to schedule a one-on-one meeting with Victor or Zeljko, please fill out this form to indicate your preferred (and backup) date and time. 
There is also an anonymous "suggestion box" for anyone to offer feedback at this link. 
Upcoming Meetings with Rubin Observatory Involvement
(those with an asterisk* are LSSTC funded):
2022

July 25-29

Boom! A Workshop on Explosive Transients with LSST*, Urbana-Champaign, IL

July 26-28

Supermassive Black Hole Studies with the Legacy Survey of  Space and Time - 2022: Getting Ready for Rubin Operations*, virtual

August 1-5

DESC Collaboration Meeting*, Kavli Institute for Cosmological Physics, University of Chicago

August 1-12

La Serena School for Data Science: "Applied Tools for Data-driven Sciences" 

August 2-5

LSST Camera Pumped Coolant Final Design Review, Menlo Park, CA

August 8-12

Rubin Project and Community Workshop 2022, Tucson, AZ

September 14-15

AURA Management Council for Rubin Observatory (AMCR) Meeting, Palo Alto, CA

September 19-23

Joint Status Review, Tucson, AZ

September 26-30

RR Lyrae and Cepheid stars meeting: "Large-scale Surveys as Bridges between Spectroscopy and Photometry," Island of La Palma, Spain

October 24-28

LSST@Europe4*, Rome, Italy (hybrid)
2022

September 15 

Register for LSST@Europe4 (virtual participation)