Rubin Digest 01 June 2022
3 June 2022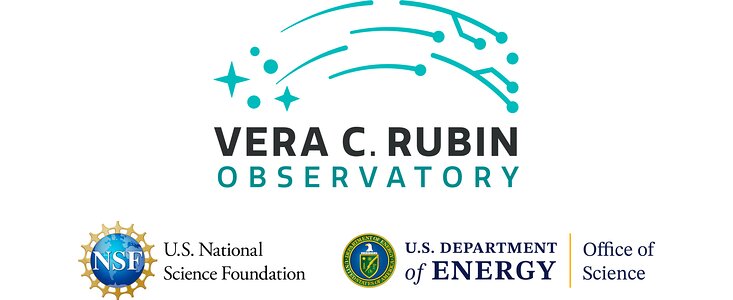 Project & Science News 
Don't forget to register for the Rubin 2022 Project and Community Workshop (PCW), August 8-12, at the Ritz-Carlton Dove Mountain in Tucson, AZ. The deadline is July 22nd, but we encourage you to register before July 8th to reserve your Rubin 2022 t-shirt. Registration and additional details are available on the meeting website.
A group of National Science Foundation (NSF) leadership and Program officers visited Rubin Construction headquarters, along with other Tucson-based NOIRLab facilities, on May 18-19. Highlights of the visit included a virtual tour of the summit from the Tucson Control Room; this tour will be repeated and recorded to share with the Rubin community in the coming weeks. Lauren Corlies, Head of Education and Public Outreach (EPO), gave a demonstration of EPO products in development. Melissa Graham, Community Engagement Team Lead, introduced the group to the Rubin Science Platform (a recorded version of this presentation can be found on community.lsst.org). Frossie Economou, Data Management SQuaRE team lead, facilitated a productive discussion on future directions for astronomical software and infrastructure with representatives from Rubin Construction, NOIRLab, and NSF.
As previously reported, on June 1st Federica Bianco (University of Delaware) ends her term as Science Collaborations Coordinator, member of the Executive Board of the LSST Corporation, and member of the Rubin Science Advisory Committee. On behalf of the Rubin community, we thank Fed for her tremendously hard and effective work in all of these roles. She has been serving as Deputy Project Scientist for Rubin since early 2022, and will continue in that role until the end of the construction project. 
Congratulations to the incoming Science Collaborations Coordinator, Will Clarkson. Will is an Associate Professor of Physics and Astronomy at the University of Michigan Dearborn, the co-chair of the SMWLV SC, and a member of TVS SC. He began serving jointly with Federica Bianco on May 1st, with full leadership responsibilities beginning on June 1st.
Rubin Observatory swag items, including t-shirts, coffee mugs, tote bags, and more, are available for purchase in our not-for-profit online store. 
Rubin in the Media:
Meredith Rawls (University of Washington), research scientist for Rubin Observatory, was featured in a recent podcast interview about satellite constellations and astronomy, recorded on April 4th.
Operations Updates:
Data Preview 0.2: Everyone who applied to participate in DP0.2 should have received an email invitation from Melissa Graham on May 31st (please check your spam folder and contact Melissa Graham if you can't find it). More information about the DP0.2 data set, tutorials, documentation, and live virtual seminars will be circulated to all delegates later in June. General information about DP0 can be found on community.lsst.org. 
LSST Corporation News:
The LSSTC Data Science Fellowship Program (DSFP) is now accepting applications for a new cohort of graduate students. The DSFP is a supplement to graduate education in astronomy-related fields (e.g. astronomy, astrophysics, cosmology, planetary science, etc.), intended to teach students essential skills for dealing with big data. Details and a link to apply (deadline June 14th) are available on the DSFP website.
Announcements & Opportunities:
Zhaoyu Yang joined the pre-Operations Data Production team on May 11th. Based at Brookhaven National Laboratory (BNL), Zhaoyu will be supporting Rubin's use of PanDA. 
John Banovetz joined the Rubin team on May 9th. John is based at BNL and will be working on both the Camera Commissioning team and the Operations Verification and Validation team.
Current opportunities with Rubin can be found on the Rubin hiring website.
Info for Project Members:
If you'd like to schedule a one-on-one meeting with Victor or Zeljko, please fill out this form to indicate your preferred (and backup) date and time. 
There is also an anonymous "suggestion box" for anyone to offer feedback at this link. 
Upcoming Meetings with Rubin Observatory Involvement:
(those with an asterisk* are LSSTC funded):
2022
| | |
| --- | --- |
| June 12-16 | AAS 240 Summer Meeting, Pasadena, CA |
| June 20-24 | Bayesian Deep Learning workshop*, Paris, France |
| July 17-22 | SPIE Astronomical Telescopes & Instrumentation Meeting, Montreal, Canada |
| July 26-28 | Supermassive Black Hole Studies with the Legacy Survey of Space and Time - 2022: Getting Ready for Rubin Operations*, virtual |
| August 1-5 | DESC Collaboration Meeting*, Kavli Institute for Cosmological Physics, University of Chicago |
| August 1-12 | La Serena School for Data Science: "Applied Tools for Data-driven Sciences"  |
| August 8-12 | Rubin Project and Community Workshop (PCW) 2022, Tucson, AZ |
| September 26-30 | RR Lyrae and Cepheid stars meeting: "Large-scale Surveys as Bridges between Spectroscopy and Photometry," Island of La Palma, Spain |
2022