Rubin Digest 05 April 2022
6 April 2022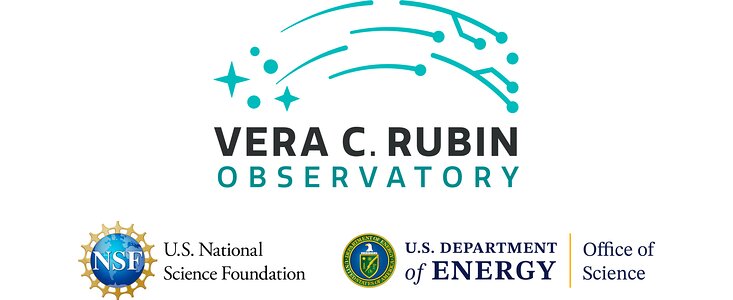 Project & Science News
April is Celebrate Diversity Month! Rubin Observatory recognizes and celebrates the variety of backgrounds and perspectives we all bring to the table to reach a common goal: finishing construction of Rubin Observatory and beginning science operations with the Legacy Survey of Space and Time (LSST). Read more about Rubin's Diversity, Equity, and Inclusion initiatives at this link.
Effective communication between the Rubin organization and the science community is important to maximize the potential of the LSST. We invite you to complete the short survey at this link (deadline April 15th) to help us determine what's working, what can be improved, and what communication areas should be prioritized in the future. 
The Survey Cadence Optimization Committee (SCOC) has issued a recommendation supporting the selection of the Euclid Deep Field South (EDF-S) centered at (RA, Dec) = (61.24, -48.42) as the 5th Rubin LSST Deep Drilling Field (DDF). More information can be found on community.lsst.org.  
The dedicated services for Rubin Observatory that have been housed at the National Center for Supercomputing Applications (NCSA) in Illinois will be shut down on August 15th, 2022. Rubin Observatory will continue moving users to the Interim Data Facility (hosted by Google Cloud) or the US Data Facility (hosted by SLAC National Accelerator Laboratory) with the goal of having everyone migrated by the end of July at the latest. 
On March 28th, the Project conducted an external, independent review of the LSST Camera cold refrigeration system, and our decision to move forward with a pumped coolant system to replace the existing problematic vapor compression system. The review committee, composed of external experts from various institutions, endorsed the decision and concurred that it is the best path forward for successful operation of the 10-year survey.
Staff highlights for April are now online; read about your colleagues, Emily Acosta, Richard Dubois, Petr Kubánek, David Rathfelder, and Colin Slater at this link. 
Rubin Observatory swag items, including t-shirts, coffee mugs, tote bags, and more, are available for purchase in our not-for-profit online store. 
Rubin in the media:
Meredith Rawls, Rubin Data Management team member and research scientist at the University of Washington, was interviewed for an episode of the podcast Spacepod, in which she discusses the impact of satellite constellations on astronomy and Rubin Observatory, and how collaboration can lead to solutions. Listen to the episode at this link. 
Operations Updates:
Members of the Rubin Observatory Data Management team participated in a meeting of the LSST Interdisciplinary Network for Collaboration and Computing (LINCC), held March 28-30 in New York City. The purpose of the meeting was to understand what software and analysis tools will need to be developed to undertake science with Rubin Observatory data. The workshop focused on science cases that had significant computational components and translating these cases into the technical needs for the science. The findings will be written up in a white paper. Photos taken at the meeting are available in the Gallery. 
The next Rubin Users Committee meeting will be held on April 14th at 8:00 a.m. PDT. The first part of all Users Committee meetings is open to anyone who wants to join. Details and connection information are available on community.lsst.org.
Announcements & Opportunities:
Maria Fernanda Parra Cuello joined the safety team in Chile as Health and Safety Coordinator on April 1st. Maria Fernanda will be responsible for the daily implementation and oversight of safety at the Rubin construction site on Cerro Pachón and will also assist in the implementation and management of the Rubin Safety, Health, and Environmental program.
Current opportunities to join the Rubin team can be found on the Rubin hiring website.
Info for Project Members: 
Reminder: there is a Rubin All-Hands meeting scheduled for April 14th, 9:00 a.m. PDT/12:00 p.m. Chile. Connection information has been sent out in a calendar invite, and some locations will host an in-person component. Please contact your administrator if you need information on how to join.
If you'd like to schedule a one-on-one meeting with Victor or Zeljko, please fill out this form to indicate your preferred (and backup) date and time. 
There is also an anonymous "suggestion box" for anyone to offer feedback at this link. 
Upcoming Meetings with Rubin Observatory Involvement
(those with an asterisk* are LSSTC funded):
2022
| | |
| --- | --- |
| May 3-5 | AURA Management Council for Rubin Observatory (AMCR) meeting, Tucson, AZ |
| June 12-16 | AAS 240 Summer Meeting, Pasadena, CA |
| June 20-24 | Bayesian Deep Learning workshop*, Paris, France |
| July 19-21 | SPIE Astronomical Telescopes & Instrumentation Meeting, Montreal, Canada |
| July 26-28 | Supermassive Black Hole Studies with the Legacy Survey of Space and Time - 2022: Getting Ready for Rubin Operations*, virtual |
| August 1-5 | DESC Collaboration Meeting*, Kavli Institute for Cosmological Physics, University of Chicago |
| August 1-12 | La Serena School for Data Science: "Applied Tools for Data-driven Sciences"  |
| August 8-12 | Rubin Project and Community Workshop 2022, Tucson, AZ |
| September 26-30 | RR Lyrae and Cepheid stars meeting: "Large-scale Surveys as Bridges between Spectroscopy and Photometry," Island of La Palma, Spain |
2022