noaoann14006 — Announcement
September 2014 NOAO Newsletter
29 August 2014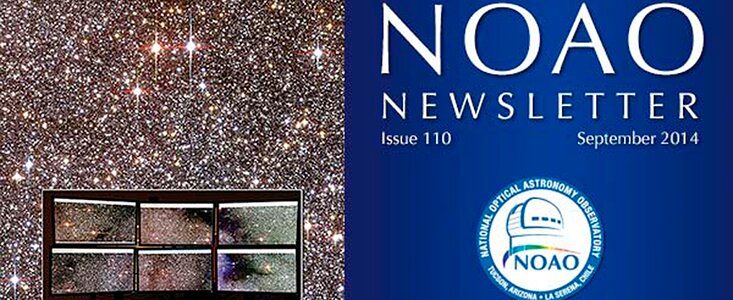 The September 2014 NOAO Newsletter is online and ready to download. This issue includes information pertaining to the 2015A Call for Proposals, which are due September 25, 2014.
On the Cover
The cover shows an 8 × 9 arcminutes image of a portion of the Milky Way galactic bulge, obtained as part of the Blanco DECam Bulge Survey (BDBS) using the Dark Energy Camera (DECam) on the CTIO Blanco 4-m telescope. In this image, red, green, and blue (RGB) pixels correspond to DECam's Y, z and i filters, respectively.
The inset image shows the 2 × 3 array of monitors at the "observer2" workstation in the Blanco control room. The six chips shown here represent only 10% of the camera's field of view.