geminiann11005 — Announcement
Journey Through the Universe – Seven Years of Exploration
15 March 2011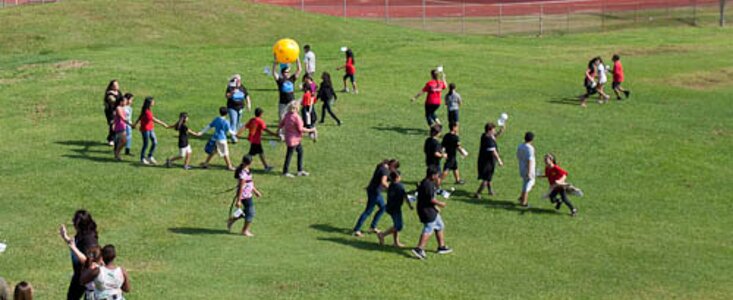 Seven years ago, Gemini Observatory began a modest program in our local Big Island community called Journey Through the Universe (JTtU). At that time the program was administered (Nationally) by the National Center for Earth and Space Education and Gemini began a journey, the magnitude of which nobody could have anticipated back then.
Today, JTtU on the Big Island has grown almost beyond recognition from those early days. In its 2011 incarnation, which occurred from February 10-18, a diverse and impressive number of participants joined in the excitement. To summarize the program's impact, over 6,500 students joined over 50 scientists, engineers and educators from local (and national) observatories and educational organizations. 310 classes participated with the help of 31 "Ambassadors" who escorted visiting educators who, for many, hadn't seen a K-12 classroom since they were there as students themselves!
The unique partnership between Gemini, other local observatories, the Hawai'i state Department of Education (Hilo, Laupahoehoe, Waiakea district), the University of Hawai'i at Hilo (including the 'Imiloa Astronomy Education Center) and multitudes of local businesses and leaders is making this program not only a flagship program for Gemini, but a model that others are now looking to emulate. According to Jeff Goldstein, who originated the national Journey Through the Universe program in 1999, "The Big Island program is everything JTtU is supposed to be, professional scientists interacting directly with students and teachers, and an entire community immersed in science education and the joys of learning."
Links