Globe at Night Launches New Website for 2023
Citizen-science light pollution project kicks-off March campaign with a new website and redesigned interactive data map
13 March 2023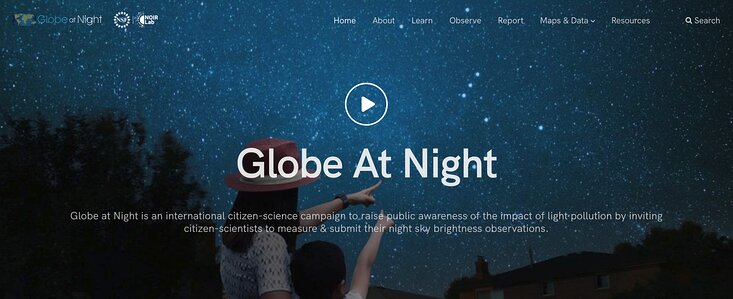 Globe at Night is an international, online, citizen-science campaign run by NSF's NOIRLab to raise public awareness of the impact of light pollution by inviting citizen-scientists to measure night-sky brightness and submit their observations. Thanks to the collective efforts of more than 250,000 people over 17 years, Globe at Night has gathered extensive data on stellar visibility and expanded our understanding of the impact of light pollution.
Today, 13 March, marks the beginning of the next Globe at Night campaign, which will last until 22 March. And the event is being kicked-off with the unveiling of a new website that features a revamped and more streamlined user interface. The interactive data map has also been redesigned to include all submitted data points across current and past years. Using a brand new location search function, users can check how data collection is going in their specific location. The website also provides instructions on how to make data collection and submission simple and accessible for any user from any location.
Anyone can submit observations through the Globe at Night web application on a desktop or smartphone. After entering the relevant date, time and location, participants are shown a number of star maps. Participants then record which map best matches what they can see in the sky without the aid of any telescopes or other instruments. With these metrics, the level of light pollution in your area can then be calculated and recorded.
By participating in Globe at Night and taking as many measurements as you can from different locations, you will be promoting awareness and helping to monitor light pollution levels locally. These crowd-sourced observations are even helping to contribute to scientific discovery. In January 2023 a paper was published in the journal Science [1] that analyzed Globe at Night's user-submitted data and found that skyglow is increasing more rapidly than shown in satellite measurements of Earth's surface brightness at night.
NOIRLab invites you to join us! No matter your location, you can contribute to the protection of the night sky and help the campaign reach its goal of 20,000 data points for 2023. Just pull up the web application on your desktop or smartphone, step outside, and look up!
More information
[1] From 2006 to 2010, Globe at Night data were collected based on a paper rather than an online form, so they were incompatible and were not included in this analysis.This research was presented in a paper accepted for the journal Science (DOI: 10.1126/science.abq7781).
NSF's NOIRLab (National Optical-Infrared Astronomy Research Laboratory), the US center for ground-based optical-infrared astronomy, operates the International Gemini Observatory (a facility of NSF, NRC–Canada, ANID–Chile, MCTIC–Brazil, MINCyT–Argentina, and KASI–Republic of Korea), Kitt Peak National Observatory (KPNO), Cerro Tololo Inter-American Observatory (CTIO), the Community Science and Data Center (CSDC), and Vera C. Rubin Observatory (operated in cooperation with the Department of Energy's SLAC National Accelerator Laboratory). It is managed by the Association of Universities for Research in Astronomy (AURA) under a cooperative agreement with NSF and is headquartered in Tucson, Arizona. The astronomical community is honored to have the opportunity to conduct astronomical research on Iolkam Du'ag (Kitt Peak) in Arizona, on Maunakea in Hawai'i, and on Cerro Tololo and Cerro Pachón in Chile. We recognize and acknowledge the very significant cultural role and reverence that these sites have to the Tohono O'odham Nation, to the Native Hawaiian community, and to the local communities in Chile, respectively.
Links
Contacts
Josie Fenske
NSF's NOIRLab 
Email: josie.fenske@noirlab.edu