ann23006 — Announcement
NOIRLab's Catharine Garmany Named 2022 AAAS Fellow
31 January 2023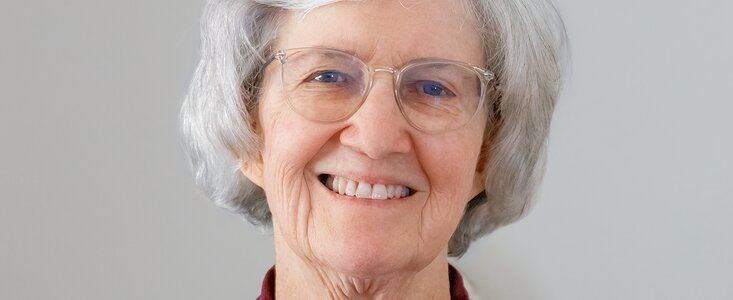 Catharine Garmany, Scientist Emerita at NSF's NOIRLab, has been named a Fellow of the American Association for the Advancement of Science (AAAS). Election as an AAAS Fellow is an honor bestowed upon AAAS members by their peers.
Garmany was elected as an AAAS Fellow for "distinguished contribution to the study of massive stars, and exemplary astronomical outreach to underserved communities."
The 2022 Fellows class includes 506 scientists, engineers, and innovators spanning 24 scientific disciplines who are being recognized for their scientifically and socially distinguished achievements. 
The new Fellows will receive a certificate and a gold and blue rosette pin (representing science and engineering, respectively) to commemorate their election and will be celebrated in Washington, D.C., in summer 2023. They will also be featured in the AAAS News & Notes section of Science in February 2023.
Garmany said in her AAAS Fellow Statement: "It has been my pleasure and honor to work with and learn from my Tohono O'odham friends and acquaintances on whose land Kitt Peak National Observatory is located. I began my astronomical research career using the telescopes on I'oligam Du'ag (Kitt Peak), which the Tohono O'odham Nation has permitted astronomers to use since 1958. I thank the Nation for this, and hope the astronomical community and the Tohono O'odham Nation can continue to improve their connections and relationship in future years."
The tradition of AAAS Fellows began in 1874. The AAAS Fellow honor comes with an expectation that recipients maintain the highest standards of professional ethics and scientific integrity.
More information 
NSF's NOIRLab (National Optical-Infrared Astronomy Research Laboratory), the US center for ground-based optical-infrared astronomy, operates the International Gemini Observatory (a facility of NSF, NRC–Canada, ANID–Chile, MCTIC–Brazil, MINCyT–Argentina, and KASI–Republic of Korea), Kitt Peak National Observatory (KPNO), Cerro Tololo Inter-American Observatory (CTIO), the Community Science and Data Center (CSDC), and Vera C. Rubin Observatory (operated in cooperation with the Department of Energy's SLAC National Accelerator Laboratory). It is managed by the Association of Universities for Research in Astronomy (AURA) under a cooperative agreement with NSF and is headquartered in Tucson, Arizona. The astronomical community is honored to have the opportunity to conduct astronomical research on Iolkam Du'ag (Kitt Peak) in Arizona, on Maunakea in Hawai'i, and on Cerro Tololo and Cerro Pachón in Chile. We recognize and acknowledge the very significant cultural role and reverence that these sites have to the Tohono O'odham Nation, to the Native Hawaiian community, and to the local communities in Chile, respectively.
Contacts
Charles Blue
Public Information Officer
NSF's NOIRLab
T: +1 202 236 6324
Email: charles.blue@noirlab.edu