Beyond Me: A Journey with Music and Sounds Through Space, Art, and Technology
Update: Event Canceled
26 October 2022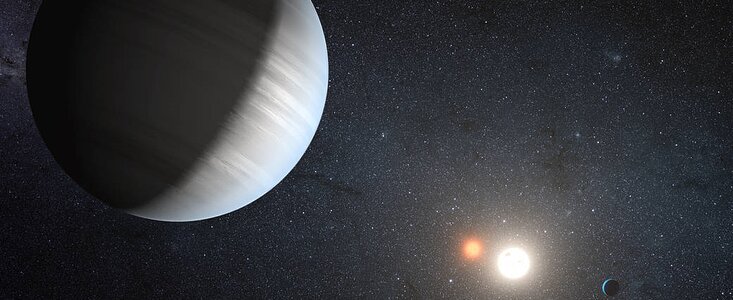 Update 30 October 2022: The event has been canceled and will be rescheduled for a future date.
On 4 November 2022 'Imiloa Astronomy Center, with support from the International Gemini Observatory, operated by NSF's NOIRLab, will present Beyond Me: A Journey with Music and Sounds through Space, Art, and Technology, an evening of sound and music based on the motions of planets orbiting alien suns as observed by NASA's planet-finding Kepler space telescope. 
Imagine being able to listen to a soundscape based on the light received from these planets in the form of a sophisticated musical score? NASA scientist and science lead of the Kepler mission Steve B. Howell, famed composer Henri Scars Struck, and branding strategist and producer Grace Palmer from The Other Side Of The Brain, proudly present Beyond Me: A Journey with Music and Sounds through Space, Art, and Technology, a specially crafted event that brings the wonders of astronomy to the public through music. Directly inspired by NASA's Kepler mission, which discovered over 4000 planets orbiting other stars, Howell and Struck introduce the scientific journey of exoplanet research through the lens of musical artistry.
Beyond Me uses actual observations of the light collected by the Kepler Mission, and transforms them into musical notes based on the different light patterns produced by the interplay of planets and their stars. By combining these notes with the rhythms of the planetary orbits, Grammy Award-winning producer Struck, working with Howell's curated observational data, has created a sweeping music and sound palette, resulting in an unbelievable musical journey and experience.
Howell works as an astrophysicist at NASA Ames Research Center, and is the Chair of the Board of Directors of the International Gemini Observatory. Struck has over the past 25 years written, produced and recorded original music for artists, film and dance, as well as for art installations and corporate programs. Palmer comes from a branding, communications, and production background, has worked in various industries, and produced numerous artistic, cultural, fashion and corporate events.
Tickets are available from the 'Imiloa Astronomy Center. The Center welcomes all audiences, from the naturally curious, to lovers of art and music, to practitioners of meditation and mindfulness, as the creators of Beyond Me have intended. Aside from promoting awareness of other worlds beyond planet Earth, beyond the Solar System, and beyond ourselves, they would like this artistic interpretation to be a shared experience that transports us all. Beyond Me perfectly encapsulates the need to pause and reflect on our place in the Universe.  
More information 
NSF's NOIRLab(National Optical-Infrared Astronomy Research Laboratory), the US center for ground-based optical-infrared astronomy, operates the International Gemini Observatory(a facility of NSF, NRC–Canada, ANID–Chile, MCTIC–Brazil, MINCyT–Argentina, and KASI–Republic of Korea), Kitt Peak National Observatory (KPNO), Cerro Tololo Inter-American Observatory (CTIO), the Community Science and Data Center (CSDC), and Vera C. Rubin Observatory(operated in cooperation with the Department of Energy's SLACNational Accelerator Laboratory). It is managed by the Association of Universities for Research in Astronomy (AURA) under a cooperative agreement with NSF and is headquartered in Tucson, Arizona. The astronomical community is honored to have the opportunity to conduct astronomical research on Iolkam Du'ag (Kitt Peak) in Arizona, on Maunakea in Hawai'i, and on Cerro Tololo and Cerro Pachón in Chile. We recognize and acknowledge the very significant cultural role and reverence that these sites have to the Tohono O'odham Nation, to the Native Hawaiian community, and to the local communities in Chile, respectively.
Beyond Me is the sole and exclusive property of Steve B. Howell and The Other Side Of The Brain. Any usage is subject to approval — copyright protected.
Links
Contacts
Charles Blue
Public Information Officer
NSF's NOIRLab
T: +1 202 236 6324
Email: charles.blue@noirlab.edu
Ku'ulei Bezilla
'Imiloa Astronomy Center of Hawai'i
T: +1 808 932 8901
Email: jbezilla@hawaii.edu
Grace Palmer 
The Other Side Of The Brain
T: +1 917 855 8319
Email: grace@theothersideofthebrain.com