Applications Open for 2022 Astronomy in Chile Educator Ambassadors Program
Accepted participants will visit NOIRLab facilities and other observatories in Chile
15 February 2022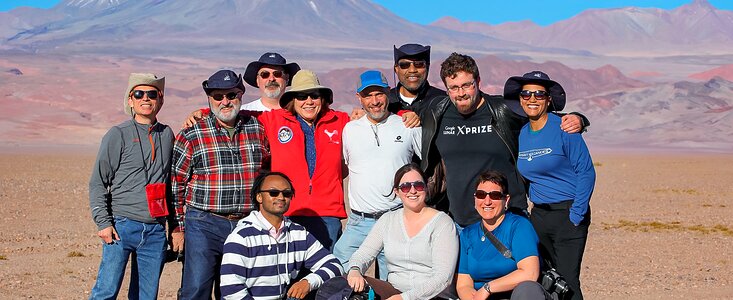 Applications are now being accepted for the 2022 Astronomy in Chile Educator Ambassadors Program (ACEAP), which NSF's NOIRLab is a partner of. To apply, visit the ACEAP website.
This program, now in its seventh year, brings amateur astronomers, planetarium personnel, and formal and informal astronomy educators to US-funded astronomy observatories in Chile, including Cerro Tololo Inter-American Observatory (CTIO) and the international Gemini Observatory, both Programs of NOIRLab.
While there, ambassadors receive behind-the-scenes tours of some of the world's most productive and advanced telescopes, including in-depth information on their instruments and discoveries. Prior to the ACEAP Expedition, participants engage in professional development activities designed to improve Science, Technology, Engineering, and Math (STEM) communication and education. The aim of ACEAP is to share the wonders of astronomy with students, the general public, and space enthusiasts while building awareness of the amazing resources and facilities in Chile, and the data they produce that can be accessed from anywhere. ACEAP ambassadors play a key role in achieving these goals.
Ten ambassadors will be selected for the Expedition, with specific travel dates to be determined. This nine-day expedition (not including travel time between the US and Chile) will include stops at CTIO, the Gemini South telescope, Vera C. Rubin Observatory, and the Atacama Large Millimeter/submillimeter Array (ALMA). In addition to the professional facilities, ACEAP ambassadors will visit smaller public observatories. Weather permitting, nighttime observing opportunities will be available.
This unique professional development experience has become known for:
providing unique access to facilities and people, and the astronomy ecosystem;
bringing together people with diverse backgrounds and skills from both formal and informal education communities;
investing in the ambassadors: activities don't stop at the end of the Expedition or year of involvement;
creating a network that continues to branch out and engage in innovative activities;
providing a creative space for participants to interact.
Anyone, including international participants, may apply for one of the five positions that are fully supported by their institution and/or personal funding. The remaining slots are restricted to US citizens and permanent residents or Chilean residents who are amateur astronomers, kindergarten through college educators (formal and informal) who teach astronomy as part of their curriculum or program, planetarium educators, or those working in the area of astronomy communications.
To learn more about the program and to apply, visit the ACEAP website. You can also visit the program on Facebook.
The deadline for applications is 11:59 p.m. (applicant's local time) on 31 May 2022.
ACEAP is a collaborative project of Associated Universities, Inc. (AUI), the National Radio Astronomy Observatory (NRAO), Association of Universities for Research in Astronomy (AURA), and NSF's NOIRLab, including Cerro Tololo Inter-American Observatory, Gemini Observatory, and Vera C. Rubin Observatory. ACEAP was initially funded in 2015 as a two-year pilot program by the US National Science Foundation (NSF). Thanks to its success, a combination of institution, personal, and NSF funding has allowed the program to continue. One of ACEAP's most well-known alumni is astronaut Sian Proctor.
More information 
NSF's NOIRLab(National Optical-Infrared Astronomy Research Laboratory), the US center for ground-based optical-infrared astronomy, operates the International Gemini Observatory(a facility of NSF, NRC–Canada, ANID–Chile, MCTIC–Brazil, MINCyT–Argentina, and KASI–Republic of Korea), Kitt Peak National Observatory (KPNO), Cerro Tololo Inter-American Observatory (CTIO), the Community Science and Data Center (CSDC), and Vera C. Rubin Observatory(operated in cooperation with the Department of Energy's SLACNational Accelerator Laboratory). It is managed by the Association of Universities for Research in Astronomy (AURA) under a cooperative agreement with NSF and is headquartered in Tucson, Arizona. The astronomical community is honored to have the opportunity to conduct astronomical research on Iolkam Du'ag (Kitt Peak) in Arizona, on Maunakea in Hawai'i, and on Cerro Tololo and Cerro Pachón in Chile. We recognize and acknowledge the very significant cultural role and reverence that these sites have to the Tohono O'odham Nation, to the Native Hawaiian community, and to the local communities in Chile, respectively.
Links
Contacts
Tim Spuck 
ACEAP PI and Director of Education and Public Engagement
Associated Universities Inc. (AUI)
Tel: 202-462-5285
Email: tspuck@aui.edu 
Vanessa Thomas
Public Information Officer
NSF's NOIRLab 
Tel: +1 520 318 8132
Email: vanessa.thomas@noirlab.edu