ann21050 — Announcement
New Director for Rubin Construction
Željko Ivezić will assume the role of Director of Vera C. Rubin Observatory Construction in January 2022
9 December 2021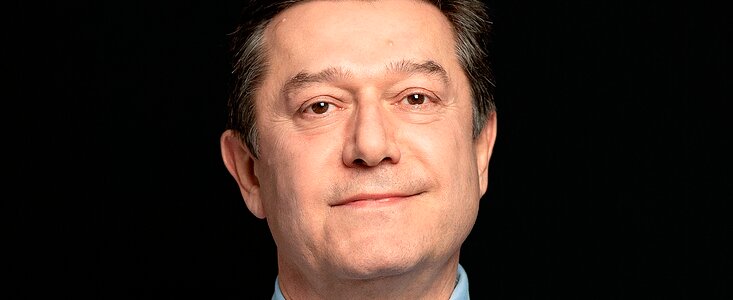 Željko Ivezić will assume the role of Director of Vera C. Rubin Observatory Construction starting on 3 January 2022. Ivezić will succeed Steven Kahn, who will be stepping down to pursue other opportunities. 
"Željko's knowledge of the Rubin Observatory system and his commitment to its success are extraordinary, and I am confident that he will lead the Rubin Construction Project to its triumphant conclusion," Kahn stated.
An astronomer at the University of Washington, Ivezić has been involved with Rubin Observatory (previously known as the Large Synoptic Survey Telescope) since its inception in the early 2000s. He has served for many years as Project Scientist and head of the Project Science Team, and was named Deputy Director of Rubin Observatory Construction in September 2018.
In his role as Deputy Director, Ivezić has assisted Kahn and Project Manager Victor Krabbendam in the overall management and direction of the program. He took special responsibility for data management, education and public outreach, communications, and interactions with the external scientific community. Ivezić also brings a wealth of expertise and experience in survey astronomy in a variety of fields ranging from Solar System science to studies of the structure of the Milky Way and cosmology.
"We are delighted that Željko, with his scientific vision and his extensive experience with Rubin and its amazing team, will be taking over as director for this critical integration and commissioning phase of the construction project," commented AURA President Matt Mountain. 
More information 
Rubin Observatory is a joint initiative of the National Science Foundation (NSF) and the Department of Energy (DOE). Its primary mission is to carry out the Legacy Survey of Space and Time, providing an unprecedented data set for scientific research supported by both agencies. Rubin is operated jointly by NSF's NOIRLab and SLAC National Accelerator Laboratory (SLAC). NOIRLab is managed for NSF by the Association of Universities for Research in Astronomy (AURA) and SLAC is operated for DOE by Stanford University.
NSF's NOIRLab (National Optical-Infrared Astronomy Research Laboratory), the US center for ground-based optical-infrared astronomy, operates the international Gemini Observatory (a facility of NSF, NRC–Canada, ANID–Chile, MCTIC–Brazil, MINCyT–Argentina, and KASI–Republic of Korea), Kitt Peak National Observatory (KPNO), Cerro Tololo Inter-American Observatory (CTIO), the Community Science and Data Center (CSDC), and the Vera C. Rubin Observatory. It is managed by the Association of Universities for Research in Astronomy (AURA) under a cooperative agreement with NSF and is headquartered in Tucson, Arizona. The astronomical community is honored to have the opportunity to conduct astronomical research on Iolkam Du'ag (Kitt Peak) in Arizona, on Maunakea in Hawaiʻi, and on Cerro Tololo and Cerro Pachón in Chile. We recognize and acknowledge the very significant cultural role and reverence that these sites have to the Tohono O'odham Nation, to the Native Hawaiian community, and to the local communities in Chile, respectively.
Links
Contacts
Vanessa Thomas
Public Information Officer
NSF's NOIRLab
Tel: +1 520 318 8132
Email: vanessa.thomas@noirlab.edu