ann21024 — Announcement
New Program Logos Complete the NOIRLab Set
Four new logos for NOIRLab's Programs depict data flow, famous telescopes and their summits
2 July 2021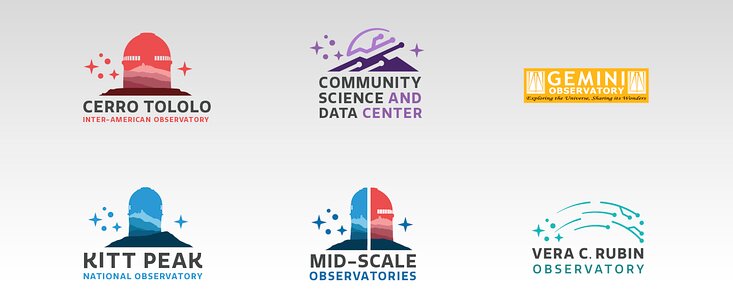 NSF's NOIRLab is launching four new logos for the NOIRLab family: one each for the Community Science and Data Center (CSDC), Kitt Peak National Observatory (KPNO), Cerro Tololo Inter-American Observatory (CTIO), and the Mid-Scale Observatories (MSO) which comprise KPNO and CTIO. The international Gemini Observatory logo remains unchanged.
With an eye to the existing NOIRLab logo and Vera C. Rubin Observatory logo, the designers wanted to ensure the new logos conveyed astronomy, are recognizable to non-specialists, are attractive for scientists, and appealing to the public.
The star cluster from the NOIRLab and Rubin Observatory logos is a unifying element among the NOIRLab Program logos and will always be featured on the left of each of these logos.
Representations of the 4-meter telescopes and the mountain ranges are used in the KPNO, CTIO, and MSO logos as they are quickly and easily recognizable to scientists and non-specialists as astronomical facilities. The CSDC logo includes a representation of a mountain at the bottom with data flow lines that are similar to the style used in the Rubin logo. The arch at the top is symbolic of the classic dome shape. And in the MSO logo, the CTIO and KPNO logos are split in half with a void in the middle to give a visual indication that these are two separate sites but one single Program.
Each logo has its own color, taken from the NOIRLab logo in which the five colors represent the five Programs (CTIO, CSDC, Gemini, KPNO, and Rubin).
The logos can be downloaded from our Logo Archive, and the recently updated Visual Identity v1.0 provides guidance on how to use these logos. 
More information 
NSF's NOIRLab (National Optical-Infrared Astronomy Research Laboratory), the US center for ground-based optical-infrared astronomy, operates the international Gemini Observatory (a facility of NSF, NRC–Canada, ANID–Chile, MCTIC–Brazil, MINCyT–Argentina, and KASI–Republic of Korea), Kitt Peak National Observatory (KPNO), Cerro Tololo Inter-American Observatory (CTIO), the Community Science and Data Center (CSDC), and Vera C. Rubin Observatory (operated in cooperation with the Department of Energy's SLAC National Accelerator Laboratory). It is managed by the Association of Universities for Research in Astronomy (AURA) under a cooperative agreement with NSF and is headquartered in Tucson, Arizona. We are privileged to conduct research on Ioligam Du'ag (Kitt Peak) in Arizona, on Maunakea in Hawaiʻi, and on Cerro Tololo and Cerro Pachón in Chile, and acknowledge the Tohono O'odham Nation, the Native Hawaiian communities, and the Indigenous communities in Chile, respectively, as original stewards of these lands.
Links
Contacts
Amanda Kocz
Press and Internal Communications Officer
NSF's NOIRLab
Cell: +1 626 524 5884
Email: amanda.kocz@noirlab.edu