ACEAP Alumna Selected as Astronaut for SpaceX
6 April 2021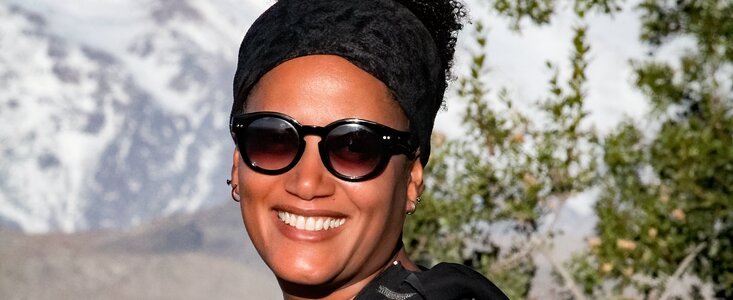 Sian Proctor, a participant in the Astronomy in Chile Educator Ambassadors Program (ACEAP) in 2016, has been selected as an astronaut by SpaceX. The Inspiration4 mission, scheduled to launch sometime after 15 September 2021, will orbit Earth for three days and conduct a variety of experiments.
Proctor is a geoscientist, explorer, space artist, and science communication specialist with a passion for space exploration. Her motto is Space2inspire, and she encourages people to use their unique, one-of-a-kind strengths and passion to inspire those within their reach and beyond. 
"I feel so fortunate to be a member of the Inspiration4 crew and to be able to use Space2inspire to impact educators from around the world," Proctor said. "ACEAP is an excellent example of how looking up at the night sky is a shared experience that can inspire us all." 
ACEAP is a collaboration between Associated Universities Inc. (AUI) and Association of Universities for Research in Astronomy (AURA), and the observatories they manage in Chile, including Cerro Tololo Inter-American Observatory (CTIO) and the international Gemini Observatory, which are now part of NSF's NOIRLab, and the National Radio Astronomy Observatory (NRAO) and Atacama Large Millimeter/submillimeter Array (ALMA), and is supported by the National Science Foundation. ACEAP brings amateur astronomers, planetarium personnel, and K-16 formal and informal astronomy educators to US astronomy facilities in Chile. While at these facilities, ACEAP Ambassadors receive extensive training about the instruments, the science, data products, and communicating science, technology, engineering, and mathematics (STEM) concepts. When they return home, the Ambassadors share their experiences and observatory resources with schools and community groups across the US. 
The next ACEAP expedition to Chile is tentatively planned for January 2022. To learn more about ACEAP, please visit the website.
Congratulations to Sian on her amazing achievement!
Links
Contacts
Tim Spuck 
ACEAP PI and Director of Education and Public Engagement
Associated Universities Inc. (AUI)
Phone: 202-462-5285
Email: tspuck@aui.edu
Amanda Kocz
Press and Internal Communications Officer
NSF's NOIRLab
Cell: +1 626 524 5884
Email: amanda.kocz@noirlab.edu
Matt Schaub
Director of External Affairs and Strategic Communications
Associated Universities Inc. (AUI)
Email: mschaub@aui.edu