ann21015 — Announcement
AURA First Observatory in Chile to Receive Certification for Preventive Management of COVID-19
25 March 2021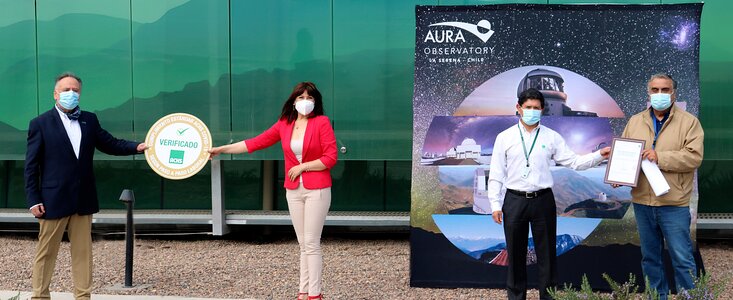 On 18 March 2021 AURA, which operates NSF's NOIRLab and its Programs in Chile, the Cerro Tololo Inter-American Observatory (CTIO) and the international Gemini Observatory, became the first observatory in Chile to obtain the "COVID-19 Seal" from the Chilean Security Association (ACHS), marking its outstanding management efforts to prevent coronavirus infections. 
This certification granted by ACHS recognizes those organizations that have undertaken outstanding management activities to address the pandemic and that comply with the requirements established by the Chilean Ministry of Health and the Governmental Superintendency of Social Security (SUSESO), as well as the best international practices for controlling the pandemic in large organizations. 
The management process began with the development of a COVID-19 Management Plan designed by AURA. Then ACHS developed a physical and documentary audit, whose verification process during January and February 2021 demonstrated the great work of the observatory in implementing the measures to prevent infections. It also showed full compliance with ACHS's standards and with the protocols of the Sanitary Authority's "Paso a Paso Laboral" plan (Step to Step Labor Plan). 
"AURA receives its Certification Accreditation, being one of the first two companies in the Coquimbo region to be awarded this recognition," said ACHS Safety Expert, Juan Carlos Salgado. "This AURA achievement in Chile is the product of coordinated work promoted by the AURA Management and its workers." 
"We are very happy to have received this seal for preventive management of COVID-19," said Vice President and Director of AURA Observatory in Chile, Mario Hamuy. "This is a demonstration of the great work led by several teams from the AURA Observatory in order to comply with all the protocols established by the authorities because our main objective is to safeguard the health and safety of our staff and their families."
Contacts
Luz María Aguirre
Communications Manager
AURA-O Chile
Email: laguirre@aura-astronomy.org
Amanda Kocz
Press and Internal Communications Officer
NSF's NOIRLab
Cell: +1 626 524 5884
Email: amanda.kocz@noirlab.edu