New Website for NSF's NOIRLab
2 September 2020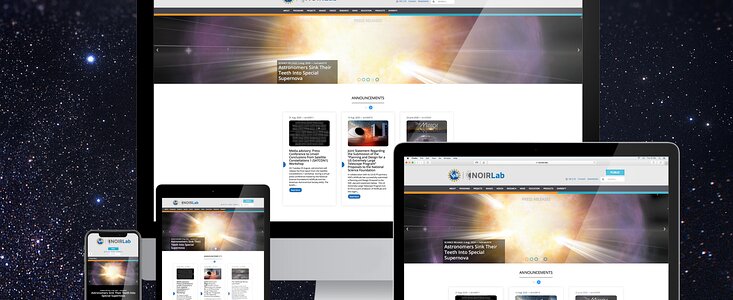 After receiving its new short name, NSF's NOIRLab, earlier in 2020, a targeted effort was started to move NOIRlab's public Internet presence from the interim website at nationalastro.org to a new domain at noirlab.edu. This public site has now been launched and is the main web portal for the public and media.
The new website offers a complete archive of all NOIRLab information for the public and media —  more than 5000 images with rich contextual metadata, hundreds of videos, news, print products, fulldome sequences for planetariums to download and show in their domes, and more. The assets are freely available for download and use under a Creative Commons Attribution license. The site also offers a historical perspective through the archives of newsletters from NOAO and Gemini. The website is bilingual in English and Spanish. 
Each of NOIRLab's five Programs, the international Gemini Observatory, Kitt Peak National Observatory, Cerro Tololo Inter-American Observatory, the operations of Vera C. Rubin Observatory, and the Community Science & Data Center, brings a long and rich history of scientific breakthroughs spanning nearly three decades. The new website shines a spotlight on NOIRLab's role as a focal point for community development of innovative scientific programs, the exchange of ideas, and creative development. NOIRLab's infrastructure enables the astronomy community to advance humanity's understanding of the Universe by exploring significant areas of astrophysics, including dark energy and dark matter, galaxies and quasars, the Milky Way, exoplanets, and small bodies in our own Solar System.
A dedicated site for our science community, called Science, is under development.
More information
The system behind the site, Djangoplicity, is a tried and tested recipe used by ESA/Hubble, ESO, UNAWE, the IAU, the International Year of Astronomy 2009 and others. It is an open-source platform that integrates standard Content Management System for the web pages with Digital Asset Management of all the assets, as well as an automated system for delivery of content to different audiences. The system uses Django which is a high-level Python web framework that encourages rapid development and clean, pragmatic design, and was designed to handle the intensive deadlines of a newsroom.
The team behind the web site:
NOIRLab web project coordination: Mark Newhouse (NOIRLab)
Development of noirlab.edu: Enciso Systems (Javier Enciso, Edison Arango, Edwin Moreno, Francisco Rodriguez and Andrés Linares)
Content migration: Enciso Systems (Paula Velásquez, Ingry Romero, Samuel Medina, Diego Palacios, Alejandro Vivas, Javier Riveros and Jonathan Garzón)
Design: Jason Kalawe (NOIRLab), Peter Marenfeld (NOIRLab), Joy Pollard (NOIRLab), Emily Acosta (Rubin Observatory)
Infrastructure: Jason Kalawe (NOIRLab), Jared Eckersley (NOIRLab) & Enciso Systems
Archive consolidation & post-processing: Mahdi Zamani & Maral Kosari
Djangoplicity legacy development: Lars Holm Nielsen (ESO, ESA/Hubble & IAU), Mathias Andre (ESO, ESA/Hubble & IAU) Gurvan Bazin (ESO), and Bruno Rino (UNAWE)
Djangoplicity project management: Lars Lindberg Christensen (NOIRLab)
Contacts
Lars Lindberg Christensen
NOIRLab Head of Communications, Education & Engagement
Cell: +1 520 461 0433
Email: lchristensen@aura-astronomy.org