ann20009 — Announcement
The NOIRLab Mirror Launched
23 June 2020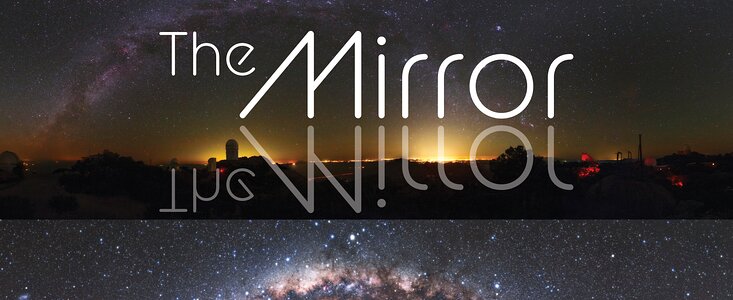 The inaugural edition of The NOIRLab Mirror is now available. Our new, twice-yearly newsletter with information focusing on NOIRLab's user communities showcases the science, technology, and program developments across the five NOIRLab Programs: Community Science and Data Center (CSDC), Cerro Tololo Inter-American Observatory (CTIO), Gemini Observatory, Kitt Peak National Observatory (KPNO), and Vera C. Rubin Observatory Operations. The inaugural issue also features the perspectives of five distinguished scientists on the roles of a national observatory.
"The choice of 'The Mirror' for the name of this newsletter series is more than a reflection of the central role of optics in our field," writes NOIRLab Director Pat McCarthy in the first issue. "A mirror allows us to see ourselves as others do. As we launch NOIRLab and this newsletter series, it is important that we be aware of how you see us in the present, how you understand the aspirations of our community, and how we can best engage with you as we create a shared vision for the future."
The NOIRLab Mirror builds on the missions and traditions of its predecessors, the Gemini Focus and the NOAO Newsletter. The NOIRLab Mirror is free and subscriptions can be requested here.
Notes
The NOIRLab Mirror is produced by NOIRLab's Communications, Education & Engagement unit. The team members, editors, and contributors to the inaugural issue include Joan Najita, Sharon Hunt, Peter Michaud, Pete Marenfeld, Tod Lauer, John Blakeslee, Lars Lindberg Christensen, Ranpal Gill, Joanna Thomas-Osip, Xiaoyu Zhang, Jessica Rose, Pat McCarthy, Adam S. Bolton, Alison Peck, Alistair Walker, Andrei Tokovinin, Andy Adamson, Arjun Dey, Bill Buckingham, Bryan Miller, Carolina Vargas, Caty Pilachowski, Cesar Briceño, Clara Martínez-Vázquez, Constance Walker, Dan Li, Dara Norman, Debra Elmegreen, Diego Gomez, E. Heinrich, Ian Dell'Antonio, J. Nation, James Turner, Janice Harvey, Jay Elias, Jayadev Rajagopal, Kathy Vivas, Lisa Storrie-Lombardi, Lori Allen, M. Bowman, Mark Dickinson, Michael Blanton, N. Volgenau, Omar Estay, Robert Sparks, Rolando Cantarruti, S. Fanale, Shri Kulkarni, Sidney Wolff, Simon Conseil, Simon Torres, Stephen Ridgway, Steve Heathcote, and Tony Tyson.
Links
Contacts
Joan Najita
Editor-in-Chief of The NOIRLab Mirror
Communications, Education & Engagement Scientist
Email: najita@noao.edu
Sharon Hunt
Managing Editor of The NOIRLab Mirror
Email: hunt@noao.edu
Peter Michaud
NewsTeam Manager
NSF's NOIRLab
Gemini Observatory, Hilo HI
Cell: +1 808-936-6643
Email: pmichaud@gemini.edu