The Gemini Card Game
---
Saturday, 01 May 2021 12:30 p.m. — 2 p.m. MST
Your time: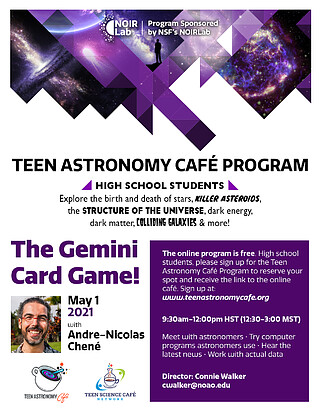 Online event
Teen Astronomy Café
André-Nicolas Chené: Gemini Card Game (NSF's NOIRLab)
At the Teen Astronomy Cafés, high school students explore the birth and death of stars, killer asteroids, exoplanets, colliding galaxies, gravitational lenses, the structure of the universe, dark energy, dark matter and more in an effort to inspire them in STEM! They meet with astronomers; hear the latest news; try computer programs astronomers use; work with actual data! 
This month's feature is The Gemini Card Game, a cooperative game for 2 to 4 players who work together to complete science programs over the course of 2 week turns for a semester of observations. Participants will get to experience the complex decisions required to run a world-class observatory. Sign up is at teenastronomycafe.org.