Spacewatch: Do You Know Where Your Asteroids Are?
---
Wednesday, 10 March 2021 5 p.m. — 6:30 p.m. MST
Your time: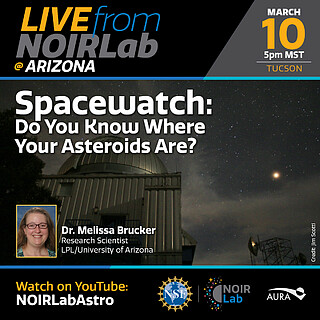 Online event
Melissa Brucker (LPL/University of Arizona)
Spacewatch is a research group at the University of Arizona's Lunar and Planetary Laboratory. Dr. Melissa Brucker will describe Spacewatch and its research on near-Earth asteroids, including asteroids that could pose a threat to Earth. To accomplish this research, Spacewatch operates two telescopes on Kitt Peak. 
Video