Black Hole Friday
---
Friday, 25 November 2022 noon — 7:30 p.m. MST
Your time: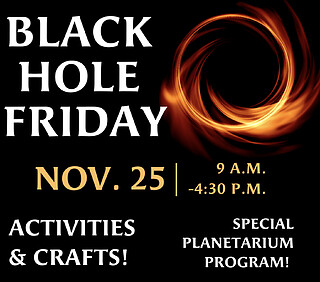 Imiloa Astronomy Center
Community Outreach
Jameeka Marshall (NOIRLab)
Join us the day after Thanksgiving for Black Hole Friday! Learn about these mysterious objects, and participate in fun activities and crafts for the whole family. Black holes are the most powerful and puzzling objects in the universe, creating immense beams of radiation that dominate the centers of galaxies. Outreach Assistant Jameeka Marshall will host a booth at the event highlighting NOIRLab contributions to our understanding of these fascinating objects. AstroKits with information on Hawaiian cultural astronomy and beautiful astronomical images will be available while supplies last.