'Ohana Science Night at Waiākeawaena Elementary School
---
Friday, 04 November 2022 8 p.m. — 9 p.m. MST
Your time: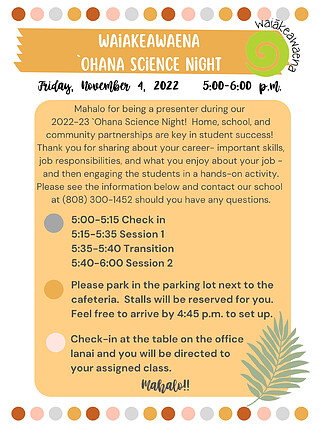 Waiākeawaena Elementary School Hilo, Hawai'i
Community Outreach
Andre-Nicolas Chene, Charlie Figura, Steve Howell (NOIRLab)
NOIRLab staff Andre-Nicolas Chene, Charlie Figura and NASA scientist Steve Howell will participate in this fun science night for the whole family! In addtion to sharing background on their education, career path and what they enjoy most about their current job role, the presenters will also engage the participants in a hands-on science activity. Each student will receive an AstroKit that includes Hawaiian cultural astronomy information as well as beautiful astronomical images.
Invitation only