Breaking the Solar System
---
Saturday, 02 April 2022 noon — 2 p.m. MST
Your time: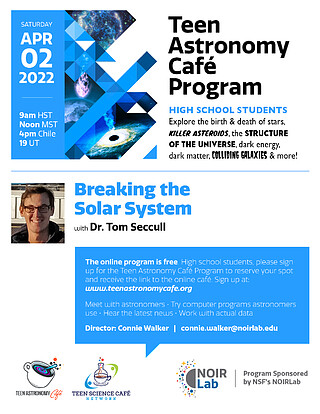 Online event
Teen Astronomy Café
Tom Seccull (NOIRLab)
High school students are invited to participate in our next Teen Astronomy Café to be held Saturday, 2 April 2002! Have they ever wondered about how the solar system formed or how life on Earth would be different if the Sun was just a bit closer? If they have, they're not alone! Scientists have been actively working on gaining new insights into questions like these for years and continue to do so.
Students will have the opportunity  to experiment with real astronomical data and discover the key to these answers themselves, if they join the free Saturday morning online Teen Astronomy Café on April 2nd titled, "Breaking the Solar System." Explore the birth of the solar system, life in the universe, exoplanets and more through an eye-opening presentation by NOIRLab's Dr. Tom Seccull followed by an interactive state-of-the-art python Google Colab notebook activity!
Due to COVID-19, please note that our Teen Astronomy Cafés are online through zoom and will not be in-person until further notice.
To participate in our online April 2nd Teen Astronomy Café, high schoolers should sign up by April 1st at https://bit.ly/3xnmVuD to reserve their spot. An email will be sent one day prior to the Café on how to connect through zoom.
Times: 9:00 am - 11 am Hawai'i Standard time (HST) 
Noon Mountain Standard Time (MST) 4pm Chile
More information at: http://www.teenastronomycafe.org