NOIRLab/Gemini Welcomed Visitors to AstroDay 2022 in Kona
Community celebrated the Universe with the Hawaiian community
8 November 2022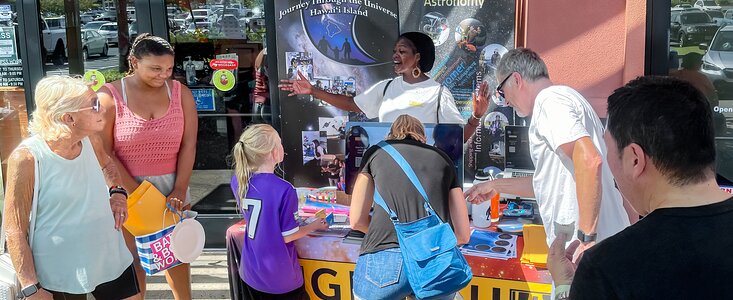 Together with the other Maunakea Observatories (MKOs), the International Gemini Observatory, operated by NSF's NOIRLab, celebrated AstroDay Kona with families and friends of all ages on Saturday, 5 November 2022. A free event held outdoors at the Kona Commons Shopping Center in Kailua-Kona, AstroDay Kona provided an estimated 1000 visitors with the opportunity to learn about the Universe that inspires astronomy research as well as the spectacular discoveries made by the telescopes on Maunakea. Like the Annual AstroDay in Hilo each May, this event is led by the University of Hawaii's Institute for Astronomy.
Observatory staff joined the community with special activities, informative exhibitions, and free AstroKits. These activity kits are composed of beautifully captured astronomical images of Jupiter and Saturn along with descriptive Hawaiian-cultural astronomy handouts, which included information on the Hawaiian moon phases and the star line most prominent this month, Ka Lupe O Kawelo. Visitors to the booth could also watch CosmoView videos highlighting NOIRLab science and technology. 
More information 
NSF's NOIRLab(National Optical-Infrared Astronomy Research Laboratory), the US center for ground-based optical-infrared astronomy, operates the International Gemini Observatory(a facility of NSF, NRC–Canada, ANID–Chile, MCTIC–Brazil, MINCyT–Argentina, and KASI–Republic of Korea), Kitt Peak National Observatory (KPNO), Cerro Tololo Inter-American Observatory (CTIO), the Community Science and Data Center (CSDC), and Vera C. Rubin Observatory(operated in cooperation with the Department of Energy's SLACNational Accelerator Laboratory). It is managed by the Association of Universities for Research in Astronomy (AURA) under a cooperative agreement with NSF and is headquartered in Tucson, Arizona. The astronomical community is honored to have the opportunity to conduct astronomical research on Iolkam Du'ag (Kitt Peak) in Arizona, on Maunakea in Hawai'i, and on Cerro Tololo and Cerro Pachón in Chile. We recognize and acknowledge the very significant cultural role and reverence that these sites have to the Tohono O'odham Nation, to the Native Hawaiian community, and to the local communities in Chile, respectively.
Links
Contacts
Charles Blue
Public Information Officer
NSF's NOIRLab
Tel: +1 202 236 6324
Email: charles.blue@noirlab.edu