Sharing Cultures Across NOIRLab
A new element in the annual Journey Through the Universe program gives students from Hawai'i, Arizona, and Chile the opportunity to share in a virtual educational and cultural exchange
10 March 2022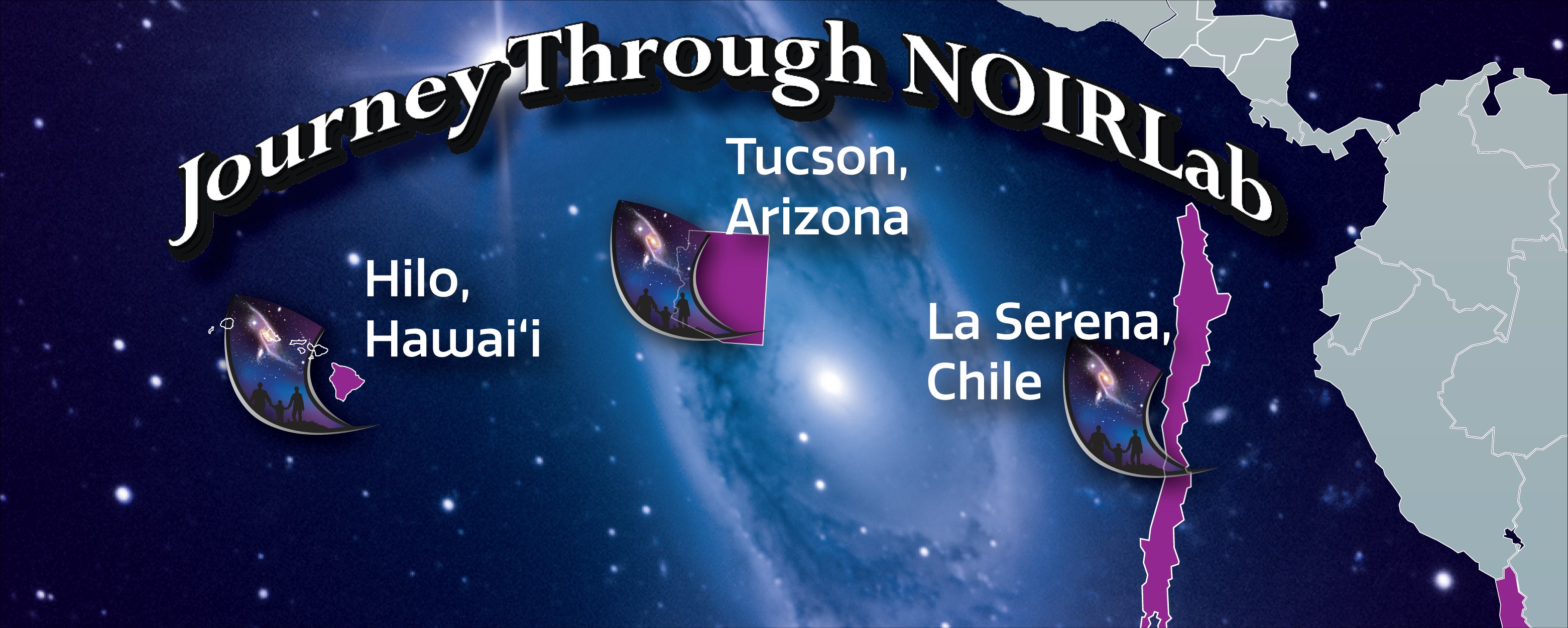 Now in its 18th year, Journey Through the Universe is NOIRLab's flagship outreach program, which started as a Gemini North program on Hawaiʻi island and features a week of virtual programming and classroom visits. As part of Journey week this year, which involved nearly 8500 students and teachers, a new element was added called Journey Through NOIRLab, which has extended that reach by (virtually) bringing together students from all of NOIRLab's host communities and engaging them in a cultural and educational exchange. 
The first Journey Through NOIRLab event, a live Zoom session during Journey week, connected classes in Hawai'i, Arizona, and Chile with a total of over 500 students who shared traditional songs, customs, environments, and career aspirations. Students also had the opportunity to ask each other questions about their lives, homes, and schools.
According to NOIRLab's Rob Sparks, who helped lead and coordinate the event from Tucson, "The program was rewarding to develop and I'm looking forward to continuing these types of events in the future." 
The Journey Through NOIRLab exchange reflects NOIRLab's commitment to act as a cultural bridge between the US and Chile, to be a positive force in our local host communities, and to respect the needs, interests, and cultures of the indigenous and local people of the regions where we work.
Journey Through NOIRLab was a pilot project this year, and based on the success of the new event, we are already looking for ways for it to continue and grow!
More information 
NSF's NOIRLab(National Optical-Infrared Astronomy Research Laboratory), the US center for ground-based optical-infrared astronomy, operates the International Gemini Observatory(a facility of NSF, NRC–Canada, ANID–Chile, MCTIC–Brazil, MINCyT–Argentina, and KASI–Republic of Korea), Kitt Peak National Observatory (KPNO), Cerro Tololo Inter-American Observatory (CTIO), the Community Science and Data Center (CSDC), and Vera C. Rubin Observatory(operated in cooperation with the Department of Energy's SLACNational Accelerator Laboratory). It is managed by the Association of Universities for Research in Astronomy (AURA) under a cooperative agreement with NSF and is headquartered in Tucson, Arizona. The astronomical community is honored to have the opportunity to conduct astronomical research on Iolkam Du'ag (Kitt Peak) in Arizona, on Maunakea in Hawai'i, and on Cerro Tololo and Cerro Pachón in Chile. We recognize and acknowledge the very significant cultural role and reverence that these sites have to the Tohono O'odham Nation, to the Native Hawaiian community, and to the local communities in Chile, respectively.
Journey Through the Universe is organized by NSF's NOIRLab/Gemini Observatory and supported by the following partners (listed in alphabetical order): Bank of Hawai'i, Basically Books, Big Island Candies, Big Island Toyota, California Institute of Technology, Caltech Submillimeter Observatory, Canada-France-Hawai'i Telescope, Daniel K. Inouye Solar Telescope, DeLuz Chevrolet, Hawai'i Community College, Hawai'i Electric Light Company, Hawai'i Island Chamber of Commerce Hawai'i Island Economic Development Board, Hawai'i State Department of Education, Hawai'i Science and Technology Museum Hawai'i Tribune-Herald, 'Imiloa Astronomy Center, James Clerk Maxwell Telescope, East Asian Observatory, Japanese Chamber of Commerce & Industry, KTA Superstores, KWXX Radio Station/New West Broadcasting, Maunakea Astronomy Outreach Committee, Maunakea Observatories, Maunakea Support Services, Maunakea Visitor Information Station NASA Infrared Telescope Facility, NASA Marshall Space Flight Center, National Astronomical Observatory of Japan, National Center for Earth & Space Science, National Radio Astronomy Observatory National Solar Observatory, Pacific Science Center, Pacific International Space Center for Exploration Systems, Project Astro/Family Astro, Rotary Club of Hilo Bay, Smithsonian Submillimeter Array Subaru Telescope, Thirty Meter Telescope, Thirty Meter Telescope–Japan, UH Hilo College of Pharmacy, UH Institute for Astronomy, United Kingdom Infrared Telescope, University of California–Los Angeles University of Hawai'i at Hilo, University of Hawai'i at Manoa, University of Oregon, Very Long Baseline Array, W.M. Keck Observatory.
Links
Contacts
Vanessa Thomas
Public Information Officer
NSF's NOIRLab 
Tel: +1 520 318 8132
Email: vanessa.thomas@noirlab.edu