ann21012 — Announcement
Globe at Night for Astronomy Day in Chile
Chilean ministries encourage citizens to observe the sky
15 March 2021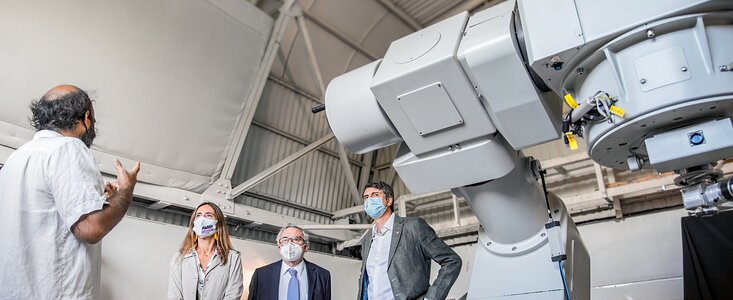 The Ministers of Science and Environment in Chile recently invited citizens to participate in NSF's NOIRLab's Globe at Night program to identify how the light of cities affects astronomical observations. This activity was a prelude to Astronomy Day held each March in Chile. 
Globe at Night is a citizen science program that seeks to raise awareness of the importance of preserving and protecting dark skies. Citizens are invited to rate the brightness of their night sky by observing the constellation of Orion and choosing which star chart matches what they see.
"We are very happy to be able to collaborate with the authorities in the challenge that Chileans have to protect the quality of our skies, in particular in the north of the country," said Vice President and Director for Chile of the Association of Universities for Research in Astronomy (AURA) Mario Hamuy. "Through NOIRLab's citizen education program, Globe at Night, we have been working for nearly 15 years to involve Chileans in this relevant issue and inviting them to be an active part of the solution. "
Astronomy Day will be held virtually in Chile on 20 March 2021. Its goal is to highlight the value of the Chilean night sky as a natural laboratory and to bring Chile's scientific development in astronomy to the community. A listing of activities taking place throughout March is available on the Día de la astronomía website. NOIRLab's activities taking place on 17–19 March can be found on the AstroDay–Chile 2021 website.
Links
Contacts
Manuel Paredes
Outreach Manager Chile
NSF's NOIRLab
Email: manuel.paredes@noirlab.edu
Amanda Kocz
Press and Internal Communications Officer
NSF's NOIRLab
Cell: +1 626 524 5884
Email: amanda.kocz@noirlab.edu