ann21010 — Announcement
NOIRLab Stories
Beyond the Science
9 March 2021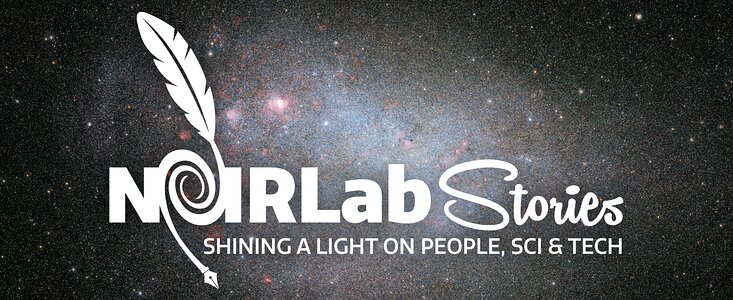 Experience the story of NSF's NOIRLab through the people, science and technology that are revolutionizing humanity's view of the Universe.
NOIRLab Stories is our new blog that takes readers behind the scenes at NOIRLab with deep dives into science, technology and, most importantly, the people who are bringing the Universe into focus. The blog explores the people and personalities that enable the science and technology of NOIRLab's observatories, including Kitt Peak National Observatory in Arizona, Gemini Observatory on Maunakea in Hawai'i and Cerro Pachón in Chile, Cerro Tololo Inter-American Observatory in Chile, the Vera C. Rubin Observatory operations, and the Community Science and Data Center in Tucson, Arizona. 
Twice monthly NOIRLab Stories brings the compelling human story of science and technology to life through the eyes of the people who make it happen. 
Oh, and be prepared for a surprise or two as the people of NOIRLab share their interests and passions beyond the stars. 
"It's been a wonderful journey seeing NOIRLab Stories take shape," says the blog's editor and writer Gemma Lavender. "Combine the science with the colorful personalities of NOIRLab's scientists and engineers and you get a blog like no other. It's an honor to work with the team to shine a light on the diversity of the people at NOIRLab."
Visit NOIRLab Stories to read our first story featuring Amanda Bauer, Vera C. Rubin Observatory's Head of Education and Public Outreach and Deputy Director of Operations. Subscribe to alerts for more NOIRLab Stories here.
Links
Contacts
Amanda Kocz
Press and Internal Communications Officer
NSF's NOIRLab
Cell: +1 626 524 5884
Email: amanda.kocz@noirlab.edu