ann20004 — Announcement
Gemini North to Restart Observations
18 May 2020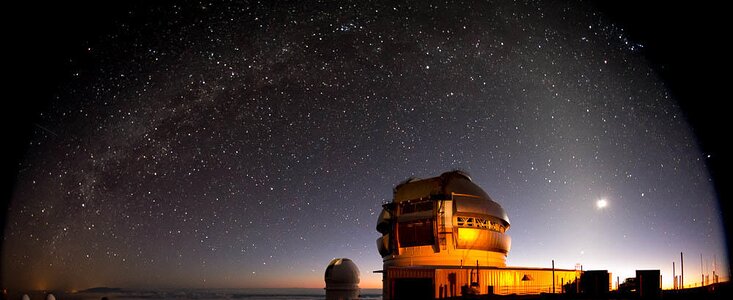 After an internal Operations Restart Readiness Review on Friday, 15 May, the northern telescope of the international Gemini Observatory, Gemini North in Hawai'i, has been given the green light on their plan to restart nighttime observations on the night of Tuesday, 19 May, with a minimal on-site crew. 
The restart is possible because the governor of Hawai'i has given permission for observatories to open, and because Hawai'i has a very low number of active COVID-19 cases. At Friday's review, a committee determined that appropriate safety protocols are in place and operating, all local and national regulations are met, sufficient supplies of personal protective equipment are on hand with a reasonable expectation of a functioning supply chain, and other operational protocols are in place.
Most of NOIRLab's staff at our three sites, Tucson, Arizona, Hilo, Hawai'i, and La Serena in Chile, will continue to telework at least throughout the month of June, and possibly longer.
Planning is underway for a limited restart of science operations and essential maintenance at each of our sites. Limited restarts in Chile and Arizona will not occur before 4 June.
The NOIRLab base facilities remain closed to visitors until further notice. Events and all tours and classroom visits remain suspended.
Links
Contacts
Peter Michaud
NewsTeam Manager
NSF's NOIRLab
Gemini Observatory, Hilo HI
Cell: +1 808-936-6643
Email: pmichaud@gemini.edu